A STRATAVENT / BEAUTY IN BALANCE
Achieve beauty that is more than skin deep.
When: Wednesday, September 7 – 4:00pm – 6:00pm
Where: Three Graces Meeting Room in the Gateway Building
To Reserve: 

[email protected]

or 719.428.2202
Cost: $25/person
Open to: Everyone
Join Strata Wellness experts, Ron Apgar, Staci Shupe, and Dr. Jennifer Habashy for a presentation of how to maintain beauty in mind, body and skin by providing a roadmap to guide women on their preventative wellness journey.
The afternoon will begin at 4:00 p.m. with wine and light appetizers at Three Graces Meeting Rooms in the Gateway Building, Strata Wellness at Garden of the Gods Resort and Club. Each attendee will be entered into a drawing for a complimentary Dermaplane service complete with a comprehensive skin and body evaluation with Staci Shupe, Strata's Medical Aesthetics Expert.
Three Strata Wellness experts coming together to provide your preventative wellness journey to beauty beyond the surface. Call for your reservation today.
Meet the STRATA Wellness Presenters:
Ron Apgar, a licensed psychotherapist, has over three decades of experience supporting clients in discovering balance with their physical, mental, and emotional selves, helping to cultivate greater mindfulness, personal understanding, and self-growth through all stages of their life.
Staci Shupe, Strata Medical Aesthetician and Laser Professional, focuses on a holistic approach to skin health and antiaging, guiding people through their personal journey to feel their best in their skin.
Dr. Habashy, Dr. Habashy is a licensed naturopathic primary care doctor who specializes in women's health, weight management, and approaches to anti-aging with the intent to help women achieve greater inner and outer beauty.
Improve Your Game
Golf Mechanics and Mobility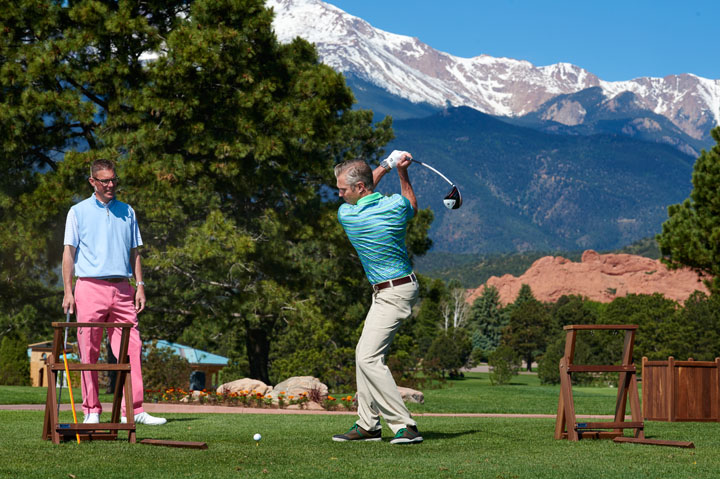 Ben Spiers, Head Golf Professional is partnering with Strata Fit coaches to provide a unique holistic approach to improve your golf game.
Golf mechanics are the number one factor in perfecting your golf swing. Equally important is mobility. Lack of joint mobility may be limiting your golf mechanics resulting in restricting the type and degree of movement your body can make in your swing, thus, lowering your potential.
We are uniting the best of two worlds to present a one-hour clinic to help you develop your perfect golf swing at Kissing Camels Driving Range.
This one-hour clinic will offer two classes to combine mechanics and mobility. During the first 30-minutes, the Strata Fit coaches will address golf specific movement and mobility. Then you will take your newfound mobility to the range/course for a 30-minute session with Ben Spiers where your swing mechanics will be addressed.
Join us from 10:00 am to 11:00 a.m. on Friday, June 17th and Mondays, July 11th, August 8th and 22nd to find your potential and improve your golf mechanics and mobility.
Register today by contacting Ben Spiers at 719.636.2520 or [email protected]
Each class is just $50. Maximum amount of participants is 12.
August 17th – August 24th
No results found, please adjust your filter selection.
STRATA Fit
NIA
Thursday, August 18
09:00 AM — 10:00 AM
STRATA Fit
Yoga
Thursday, August 18
09:00 AM — 10:00 AM
STRATA Fit
Yoga
Friday, August 19
09:00 AM — 10:00 AM
STRATA Fit
Splashercise
Friday, August 19
11:00 AM — 12:00 PM
STRATA Fit
Yoga
Saturday, August 20
10:00 AM — 11:00 AM
STRATA Fit
Yoga
Sunday, August 21
08:00 AM — 09:00 AM
STRATA Fit
Cycling & Strength
Monday, August 22
06:30 AM — 07:30 AM
Fitness Center
STRATA Fit
Strength
Monday, August 22
08:00 AM — 09:00 AM
STRATA Fit
Gentle Stretch & Balance
Monday, August 22
09:00 AM — 10:00 AM
Fitness Center | Garden Terrace
STRATA Fit
Qigong
Monday, August 22
10:00 AM — 11:00 AM
STRATA Fit
Splashercise
Monday, August 22
11:00 AM — 12:00 PM
STRATA Fit
Sculpt & Tone
Monday, August 22
04:30 PM — 05:30 PM
Fitness Center | Garden Terrace
STRATA Fit
TRX Plus
Tuesday, August 23
07:00 AM — 08:00 AM
STRATA Fit
20/20
Tuesday, August 23
08:00 AM — 09:00 AM
STRATA Fit
NIA
Tuesday, August 23
09:00 AM — 10:00 AM
STRATA Fit
Vinyasa Yoga
Tuesday, August 23
10:00 AM — 11:00 AM
STRATA Fit
Indoor Cycling
Wednesday, August 24
06:30 AM — 07:30 AM
Fitness Center
STRATA Fit
Pilates
Wednesday, August 24
08:00 AM — 09:00 AM
STRATA Fit
Strength
Wednesday, August 24
10:00 AM — 11:00 AM
STRATA Fit
Splashercise
Wednesday, August 24
11:00 AM — 12:00 PM