Garden of the Gods Resort and Club
Colorado Springs, Colorado
Even from our early beginnings in 1951, the vision was grand and ambitious: to create the ultimate escape where recreation and relaxation reign supreme — and where the distractions of the outside world disappear, bringing the things that matter most clearly into focus.
Today, that same passionate idea is expressed in everything we do at Garden of the Gods Resort and Club.
#1 Place to Stay in Top 100 Hotels in the U.S.
Enticing Offers & Packages
A collection of curated experiences to help you start planning the perfect getaway.
The Spring Break You Need

Elevate Spring Break for the whole family by booking one of our spacious luxury suite accommodations for 30% off*.

Bed and Breakfast

You know it, you love it. Time for a classic Bed and Breakfast experience! This package includes one-night accommodation and a $50 credit towards breakfast.

COLORADO RESIDENTS! SAVE 20% OFF OUR BEST ROOM RATES!

We want to "show the love" to Colorado Residents for choosing to vacation at our beautiful resort, right here in Colorado Springs. From $224 per night!

Strata Immunity Packs

Now offered just in time for Cold and Flu season: Strata Immunity Packs!

Strata Gift Cards

GIVE NEW
STRATA GIFT CARDS

Available in any amount, in any of six new designs.

STRATASTAY

Book a 2-DAY STRATASTAY

Give luxury and wellness for as little as $499 per night

Give the Gift of a Resort Gift Card!

Buy now and use it when you need a getaway!

To order, call 719-632-5541 or email us at [email protected]

Suite'n Your Stay

Elevate your stay and Suite'n Your Stay with us! Book your suite at 30% off standard rate.
HAPPINESS RETREAT

Join us for a 3 day retreat with long-serving teacher of the U.S. Art of Living Foundation, Ashish Pandya.

Garden Refreshed

At Garden of the Gods Resort and Club, we want you to embark on an enriching journey. To give you the transformation you seek, we're having one of our own.
A Unique Stay
The range of our accommodations share an expansive feel, flexible design, and genuine sense of place. Choose from spacious rooms and suites with spectacular vistas, or enjoy the amenities and privacy of a secluded residential community setting within our Cottages and Casitas.
View All Accommodations
Mountain Front Guest Rooms & Suites

Each of our luxurious 56 guest rooms and suites feature unparalleled front-row views of Pikes Peak and the Garden of the Gods National Natural Landmark.

Cottages

Positioned in a secluded refuge within Garden of the Gods Resort and Club, our residential-style Cottages blend exclusivity with world-class amenities.

Casitas

Perfect for a family vacation, golf getaway, or extended stay, our Casitas feature a full kitchen, dining and living areas, and a private patio with outdoor fireplace.
Exhale the past.
Inhale the future.

Welcome to a one-of-a-kind, experiential, and immersive Colorado wellness retreat, where the essential balance of mind, body, and spirit is restored, layer by layer – and where unlocking your ultimate potential becomes the reality.

Your Experience Awaits You.
Exceptional Gatherings
An exclusive Colorado retreat for weddings, social events, and executive meetings, Garden of the Gods Resort and Club offers a variety of intimate indoor and outdoor private venues. Each is set amongst awe-inspiring geologic formations that give this iconic landscape its name.
View Weddings & Events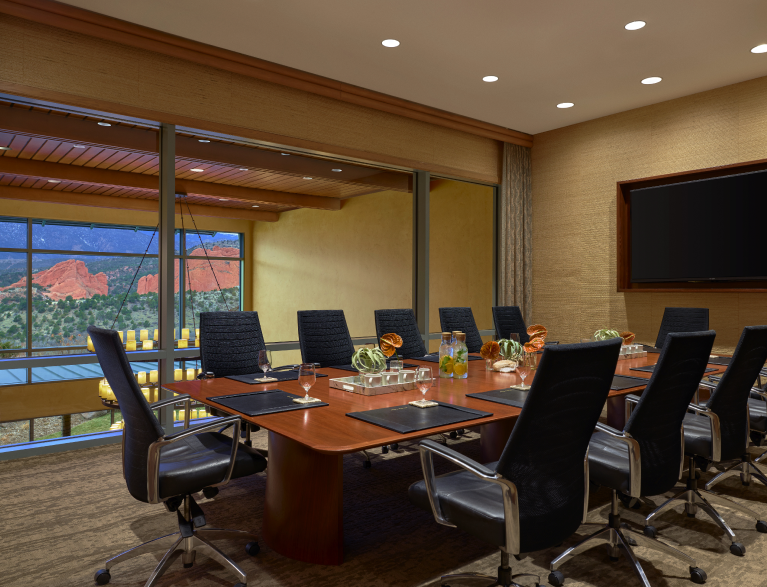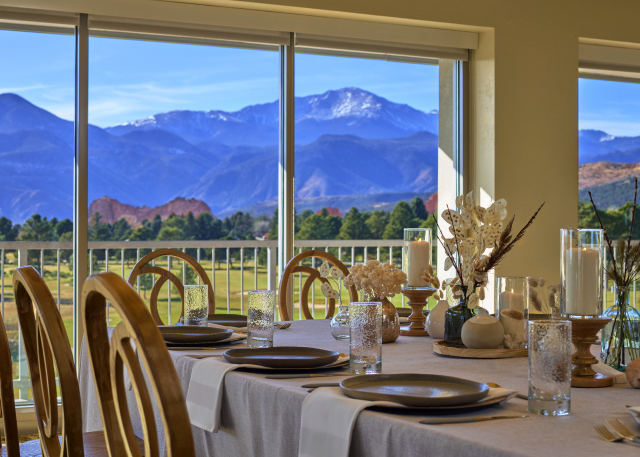 Extraordinary Amenities & Activities

From outdoor activities like falconry, ziplining, and ebike tours to kid-free evenings courtesy of our nanny service: We have developed an inspired selection of amenities and offerings. Each is perfectly aligned with your desires and expectations, with the ultimate goal of creating an unrivaled hospitality and wellness experience.
Custom Residences

Our custom residences at Vermilion celebrate the distinctive hues and the natural beauty of the surrounding ethereal landscape. This brilliant setting is the backdrop for our vibrant community of 19 villas and 14 casitas.

Exclusive Memberships

Become a member of the Garden of the Gods Resort and Club, and enjoy exclusive access to an array of activities and amenities, the full social calendar of events and parties, and countless other benefits.
Yelp #1 US Hotel Award
Organic Spa Media Wellness Travel Awards: Most Transformative