Experience the powerful connection to the rocky mountain landscape during your stay at Garden of the Gods Resort and Club. Overlooking the Garden of the Gods National Park, our wide variety of luxury accommodations share a spacious residential feel, flexible designs, and a genuine sense of place.
Choose from 116 total well-appointed guest rooms and suites with unparalleled views in the main resort Lodge, or experience the breadth of amenities — while enjoying the privacy of a secluded residential community setting — within our Cottages and Casitas.
The Cottages
Available as one, two, and three-bedroom luxury residences, our Cottages combine exclusivity with world-class amenities. They are bordered by a landscaped courtyard with a dedicated outdoor fireplace and privacy walls to create a soothing retreat environment. The Cottages offer impeccably curated furnishings and appointments complete with a kitchenette, dining room, spacious living area with fireplace, and five-piece ensuite bath with soaking tub in each bedroom.
The Casitas
Located in a secluded enclave nestled within our Colorado Springs hotel, the private Casitas blend exclusivity with the exceptional services for which we are renowned. They have been designed with flexibility in mind — featuring one, two, and three-bedroom luxury residences, each with connecting room options. Exquisitely furnished and well-appointed, each residence includes a full kitchen, dining room, spacious living area with fireplace, and much more.
The Lodge
Our mountain-front Club Rooms and Suites at The Lodge offer breathtaking, direct views of the Garden of the Gods Park with its spectacular natural formations, sheer cliffs, and oak-covered valleys — all framed by Pikes Peak. Additionally, the suites offer a separate living area to create a more residential ambiance. These accommodations are conveniently located in the main resort building with easy access to the Infinity Pool, Fitness Center, dining, and meeting spaces.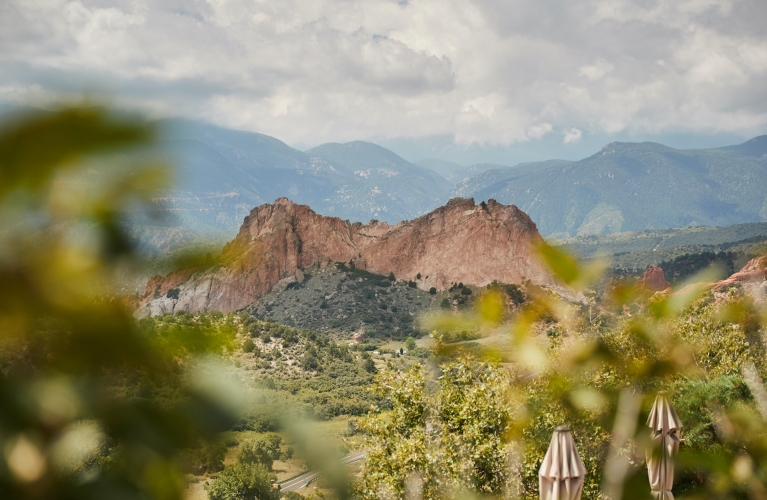 Amenities at Our Resort in Colorado Springs
ADA Accessibility

Garden of the Gods Resort and Club is proud to offer ADA hotel accommodations and services, from the parking lots and entrances to our ADA-accessible elevators, rooms and suites, meeting rooms, and fitness facilities.

Resort & Club Policies

As Garden of the Gods Resort and Club is situated within an elegant and sophisticated private country club, we ask that our resort and event guests please observe the following guidelines while on property.
Enticing Offers & Packages
A collection of curated experiences to help you start planning your perfect getaway.
Suite'n Your Stay

Elevate your stay and Suite'n Your Stay with us! Book your suite at 30% off standard rate.

STRATASTAY

Book a 2-DAY STRATASTAY

Give luxury and wellness for as little as $499 per night

Strata Immunity Packs

Now offered just in time for Cold and Flu season: Strata Immunity Packs!