Head to toe. Front to back.
Massage therapy is a powerful ally in your wellness regimen. Experience relaxation, stress management, and therapeutic benefits under the hands of our gifted and caring Colorado Springs massage therapists — all from the luxurious comforts of Strata Spa.
We offer both individual and couples' massages, as well as add-on enhancements like sparkling wine and chocolate-covered strawberries, or other seasonal amenity, to provide the ultimate spa experience.
For your convenience, a 22% service charge is added to the retail value of your services.
Aromatherapy Massage
Aromatherapy and therapeutic essential oils are indicated to help balance the mind, uplift emotions, and ease physical ailments. Enjoy all that our Strata Signature Massage has to offer with the added bonus of full-body aromatherapy.  Three unique TARA blends are available: Detox, Balance, Recover.
Bamboo Massage
This blissful and innovative massage technique utilizes soothing, warm bamboo canes and rattan stalks of varying shapes and sizes to provide deep tissue therapy.
Crystalized Seawater Scrub
Flecks of crystallized seawater and lactic acid-infused red algae are massaged over the skin to smooth rough areas and eliminate dryness from the body. After the exfoliant is dusted off the skin to reveal a fresh complexion, a final, custom blend of body milks and creams are applied to leave a veil of moisture.
Himalayan Salt Stone Massage
Himalayan salt stones provide traditional hot stone benefits but also include 84 vital minerals for skin exfoliation, nourishment, and energy balancing.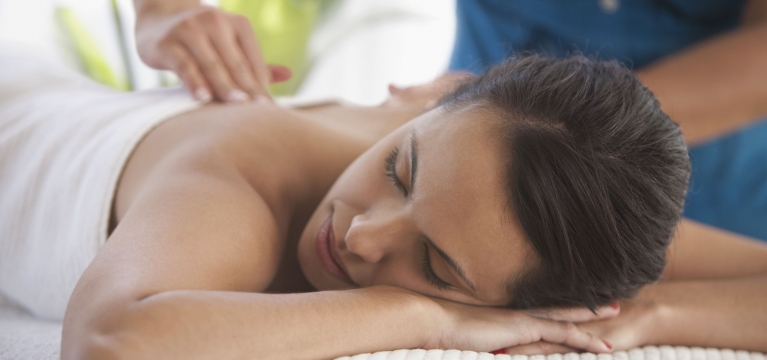 Spa Sampler
A focused approach to tension reduction in up to 2 requested areas of the body.
Strata Glow Exfoliation
Full-body exfoliation with a gentle but effective Environ liquid exfoliant followed by the application of a deeply nourishing Body Oil with Vitamins A, C, and E, leaving your skin soft and glowing.
Strata Glow & Massage
A 30-minute full-body exfoliation with a gentle but effective Environ liquid exfoliant followed by a 50 or 80-minute personalized massage using a deeply nourishing Body Oil with Vitamins A, C, and E, the combined treatment leaving your skin soft and glowing and your whole body relaxed.
Strata Signature Massage
A customizable massage to address your specific issues using preferred pressure, while also including a few signature touches of aromatherapy, singing bowls, and warm flaxseed packs.
Terra-py
Specific purified healing muds are painted onto various areas of the body to aid in refining and detoxifying the skin and body. The application is followed with an infrared wrap, scalp massage, aromatherapy shower, and moisturizing treatment.
Recovery & Detox

Choose from a variety of services for recovery and detoxing the body.

Hydration & Sensory Floatation Experiences

Unwind in our highly coveted Haslauer Pure Sense Soft Pack Bed as you float weightlessly, cocooned by body temperature warmth.

Couples Experiences

A time and place set apart, our couples' suite creates a lasting memory. Enjoy side-by-side treatments and complete pampering in total privacy.