From your bachelorette weekend to your big day, Strata Med Spa Fit is a stunning destination for bridal pampering, preparation, and "I Do"s.
Let our team of professionals treat you to facials, body treatments, hair and makeup, massage therapy, and nail services specifically designed to help you look and feel your best as you prepare for your special celebration. Create your picture-perfect look with our dedicated wedding stylists. Pamper yourself with a comprehensive spa menu of facial and body therapies — from Glow Massages, Botox, and Dermal Fillers to Dry Flotation Therapy and IV Nutritional Therapy for high-dose vitamins, minerals, and antioxidants, as well as special treatments for high-altitude adjustments. And toast big with Champagne and Mimosas extra experiences!
Join your entourage in a myriad of other bespoke wellness services, all set against the breathtaking backdrop of the Rocky Mountains. Contact our Spa Concierge to assist you and your bridal party with planning and choices:
Strata Spa Massage, Treatments & Facials
Strata Med Integrated Wellness Treatments
Strata Fit Group Classes
Integrated Wellness Packages
Wedding Day Blow Out-Short Hair
Guests participating in the wedding (Mother of the Bride, bridesmaids, Mother of the Groom). This is a blow out ONLY. Up-Do not included.
Wedding Day Hair
Bride only
Wedding Trial Hair
Bride only
Wedding Little Love Up-do
Just for Kids (ages 5 – 12)
Wedding Party Hair
Guests participating in the wedding (Mother of the Bride, bridesmaids, Mother of the Groom). This will include up-do's.
Wedding Travel Fee Hair
Additional fee added when salon needs to travel to a different location
Wedding Day Airbush
Airbrush machine used for makeup application on wedding day
Wedding Day Just for Kids Makeup
Just for Kids (ages 5 – 12)
Wedding Day Makeup
Bride only
Wedding Trial Makeup
Bride only
Wedding Travel Fee Makeup
Additional fee added when salon needs to travel to a different location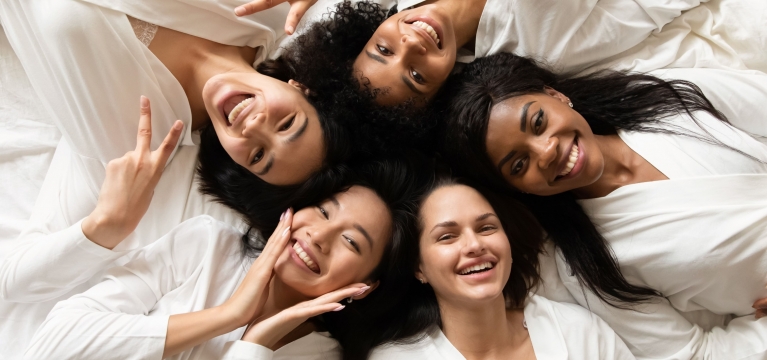 Wedding Party Airbrush
Guests participating in the wedding (Mother of the Bride, bridesmaids, Mother of the Groom)
Wedding Party Makeup
Guests participating in the wedding (Mother of the Bride, bridesmaids, Mother of the Groom)
Strata Signature Massage
A customizable massage to address your specific issues using preferred pressure, while also including a few signature touches of aromatherapy, singing bowls, and warm flaxseed packs.
Biodynamic
A hypoallergenic facial focused on reducing fine lines, diminishing redness and leaving your skin looking radiant and youthful.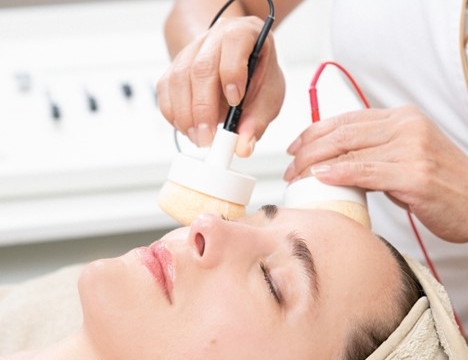 Remodel and Refine
Define and sculpt facial contours while stimulating underlying tissue with state-of-the-art bio-electrotherapy to lift your face, neck and décolleté. Remodeling Face Machine® revitalizes the skin, restores elasticity and reduces puffiness around eyes while improving the penetration of active ingredients for the ultimate anti-aging experience.
Algae Deep Detoxifying
A unique detox immersion that includes abdominal massage, full-body lymph exfoliation, and an algae mask applied using a few special massage techniques to support drainage and the release of toxins in the body. Concludes with infrared heat and a nourishing finishing cream, leaving your skin hydrated and your body balanced and energized!
Strata Glow & Signature Massage
Combining a 30 minute Strata Glow with an 80 minute Signature Massage that is personalized to your pressure.
Milk & Honey
Ultra-rich cremes, organic honey and nourishing oils not only support dry, exhausted skin but combine to protect and regenerate the deeper lipid layers leaving your skin replenished especially after hours in the sun. Customize your experience with the addition of your choice of a therapeutic TARA Essential Oil Blend.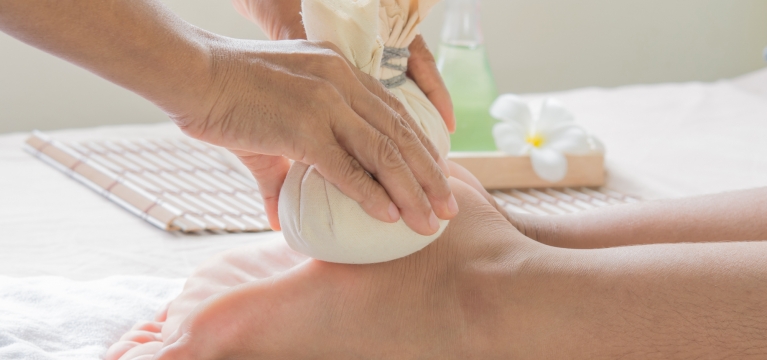 Herbal Poultice
Healing experience combining shiatsu energy points, light stretching, and massage with a warm poultice of therapeutic and aromatic Thai herbs aimed to relieve tension and inflammation in the body while balancing the subtle energies.
Relaxing Dry Flotation Therapy
Take advantage of the health benefits and pain relief of the dry flotation experience without additional treatments.
INTEGRATED WELLNESS PACKAGES
For your convenience and ease leading up to the Big Day (and afterwards!), Strata partners with wedding parties and planners to develop favorite Wedding Wellness Experiences based upon Integrated Wellness and experiencing whole-person relaxation and rejuvenation.
Choose the packages and pairings that you would like us to book today and plan your stay.
Wedding Glow & Restore
110-minute Exfoliation Glow Body Treatment and Massage
Relaxation Acupuncture
50-minute Organic Rejuvenating Facial
Recommended Pairings:
Relaxing Floatation Therapy ($75*)
Private or Group Outdoor Sunrise Yoga ($75- $150)
Weekend Warrior
80-minute Therapeutic Massage
Hydration Recovery IV Therapy
Men's Cut and Clean-up with Recovery Eye Treatment
Recommended Pairings:
Gentlemen's Manicure ($30*)
Private or Group Outdoor High Intensity Interval Training ($75-$150)
Rejuvenating Any-Moon
*Earlymoon, Engagementmoon, Honeymoon, or Babymoon
Couples' Ultimate Algae Detox with 50-minute Massages in VIP Suite, plus 30-minute relaxatio with champagne and strawberries
Couples' Ayurvedic Dosha Discovery
Couples' Energy Healing Session
Couples' Outdoor Private Yoga
Recommended Pairings:
Couples' Acupuncture ($250/couple)
Couples' Three-Hour Guided
Hike through Garden
Group Get-Away
*minimum purchase of 4 individuals, maximum 10 individuals
Group Hydration IV Therapy with Wellness Elixirs
80-Minute Herbal Poultice Massage
Signature Manicures and Pedicures
Group Fitness Activity (selected upon booking)
Recommended Pairings:
Group Sunrise Guided Meditation ($150-$225/group – pending group size)
Eminence Organic Biodynamic Facial ($150/per person*)
Strata Fit
60 minute sessions priced at $75
Personal Training
Functional Movement Analysis
Private Outdoor and Nature
Sunrise Yoga
Private Reformer Pilates Session
Private Aqua Fit or Competitive
Swim Lesson
Private Barre or TRX Class
Strata Group
60 minute sessions priced at $150 per Group Activity (9 participants or less) or $225 per Group Activity (10 participants or more)
Outdoor Guided Group Meditation
Outdoor Sunrise or Sunset Yoga
Themed Boot Camp
Choreographed Dance Routine
Drum Fit
Barre for the Bridesmaids
Wedding-themed Spin Class

( up to 16)

GroupEx Customized Class
EXCLUSIVE TO STRATA SPA & SALON
Give the EXCLUSIVE gift of relaxation at Strata Spa & Salon.
Learn More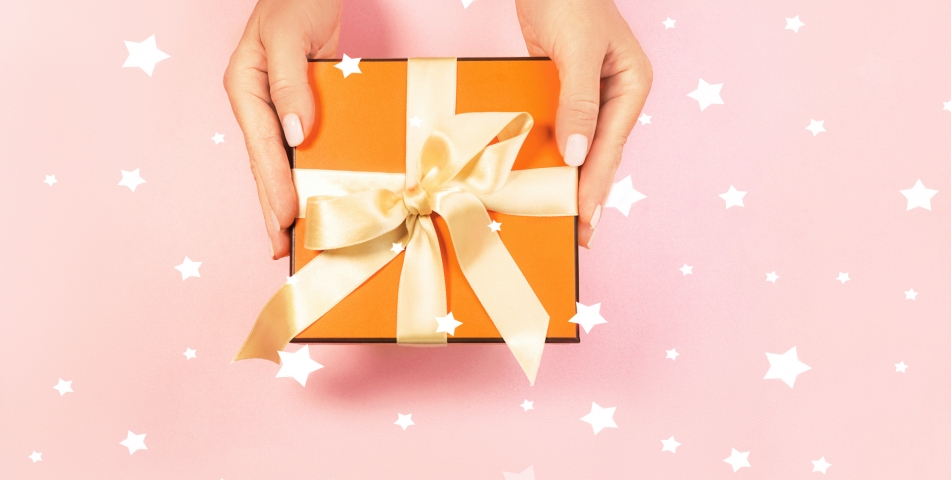 Extra Tips to Consider
Have one of the Bridesmaids take on the role of making sure the bridal party stays hydrated and fed.  Cannot be said enough times, tons of water.

Please refrain from anything new for skin care, procedures, or body care 1 month out is a great rule of thumb.
Please do use your skincare especially the day and night before and the morning of the day with your current skin care.
We highly recommend using a firming eye cream during the day and anti-aging at night.  Eyes are the first place that can show dryness, tiredness and fatigue, eye creams are incredibly important!
Make payment for hair and makeup services stress free. Communicate with your bridal party how each person is taking care of payment. You can purchase gift cards for your bridal party to use in the spa for services (hair and makeup).
Music can set the tone for the day. Have a bridesmaid play "DJ", creating a bridal play list and be sure to bring a wireless speaker.
How to take the stress out of packing?  Make a list of all the items that you need for the entire day. Pack all your items the day before while you are not distracted. Use your list: jewelry, shoes, perfume, undergarments, something old, something borrowed, and something blue, along with any sentimental items you want to have with you. This will leave you relaxed and ready to have a blast with your bridal party and family.
Have your Planner/Maid of Honor provide snacks and water like a pack mule during the morning and afternoon. An empty stomach/dehydration plus adrenaline equals a fainting spell waiting to happen.
On the wedding day, be sure the flowers/bouquets are blotted with towels if they are in water before the bridal party picks them up to avoid dress water marks.
Have an extraordinary day!