To offer the very best solutions for your skin, Strata Spa, the Spa & Salon at Garden of the Gods Resort and Club, partners with product line, Eminence Organic Skin Care.
Our team of uniquely trained estheticians brings specific product line methodology to each therapy session, for product recommendations, and in at-home routines.
Eminence Organic Skin Care utilizes the finest natural, organic and Biodynamic® ingredients to maintain beautiful, healthy-looking skin. Experience the long-lasting benefits of our exclusive professional treatments, available only from their valued spa partners.
With each service, your treatment is personalized for your specific skin type, needs and goals. Enter a world of relaxation, renewal, and rejuvenation, while enjoying our concierge experience – and continue transformative results with a customized at-home skin care program.
Visit today with our Strata Spa specialists to learn more about Eminence Organic Skin Care products. Additionally, speak with the Concierge Team regarding opportunities with our VIP, Loyalty, and Referral Programming; renewal routines for maintaining beauty; and, on-site, in-stock, and full product lines via our Eminence Organic Skin Care Affiliate Link Service.
Biodynamic
A hypoallergenic facial focused on reducing fine lines, diminishing redness and leaving your skin looking radiant and youthful.
Strata Glow Facial
Custom designed facial treatment to deep cleanse and exfoliate your skin from pollution, hormonal-imbalance or acne-prone skin issues. Contouring facial massage, gentle extractions, cocktail of serums and masks will improve your skin's appearance for lasting results.
Gemstone Signature
Purifying cleanse, activated charcoal and malachite gemstones pull toxins from skin. A warm turmeric treatment brightens and softens skin revealing balanced, energized and glowing skin.
Mangosteen Gentle Resurfacing
Reveal your inner radiance with this organic resurfacing lactic acid facial and masque. Designed with an antioxidant-rich super fruit, Mangosteen.
Marine Flower Peptide
Deep dive into ageless results. Organic peptides and Smart Collagen+ are used to diminish fine lines, plump up the skin, and increase hydration and firmness.
Pure Forest
Reconnect with nature! Experience intense hydration while powerful botanical peptides smooth, contour and tighten skin.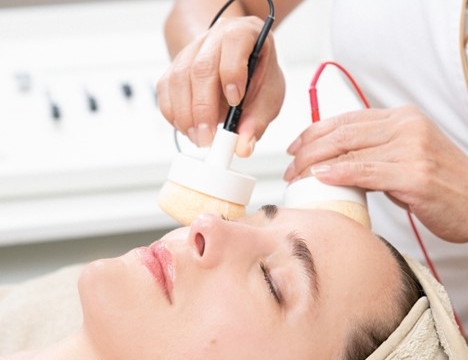 Remodel and Refine
Define and sculpt facial contours while stimulating underlying tissue with state-of-the-art bio-electrotherapy to lift your face, neck and décolleté. Remodeling Face Machine® revitalizes the skin, restores elasticity and reduces puffiness around eyes while improving the penetration of active ingredients for the ultimate anti-aging experience.
Reverse The Clock
Custom cold-therapy facial designed to show immediate and long-lasting results. Deep cleanse, exfoliation, lifting and contouring facial massage, and curated cocktail of masks, boosters and serums to achieve firmer and rejuvenated skin.
WELLNESS SPA EGIFT CARDS
EXCLUSIVE TO STRATA SPA & SALON
Give the EXCLUSIVE gift of relaxation at Strata Spa & Salon.
Learn More
Couples Experiences

A time and place set apart, our couples' suite creates a lasting memory. Enjoy side-by-side treatments and complete pampering in total privacy.

Salon Services

Be as stunning as the natural beauty around you. Our talented staff will consult with you to find the most complementary look for your features and lifestyle.

Hair Services
Nail Services
Lashes & Brows
Makeup
Waxing
Weddings

Massage & Body Treatments

Experience relaxation, stress management, and therapeutic benefits under the hands of our gifted and caring Colorado Springs massage therapists — all from the luxurious comforts of Strata Spa.

Strata Spa also offers Prenatal Friendly Services.