Hit perfect drives in a watercolor world
Kissing Camels Golf Club at Garden of the Gods Resort and Club
Members of  Garden of the Gods Resort and Club, guests of members, and guests staying overnight at our luxury resort can experience the serenity of Kissing Camels Golf Course, a 27-hole golf course in Colorado Springs featuring immaculately groomed fairways, bunkered greens and towering pines. Former host of the Senior Women's Amateur Tournament, this 50-year-old course spans more than 7,000 yards per 18 holes.
Get Tee Times >       Scorecard >       Green Fees >       Winter Course Map >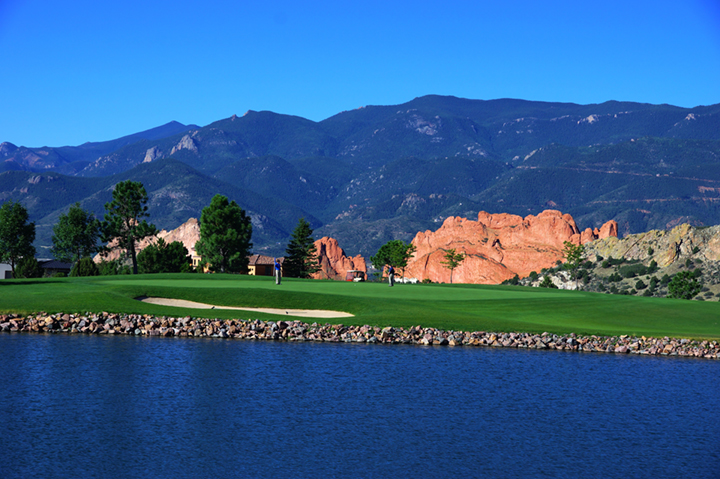 Golf Course Reminders
Guest Policy
As a member of Kissing Camels Golf Club, you have the privilege of bringing guests to the golf course to play golf with you as an accompanied guest. The Club has a guest policy of allowing the same guest to play a maximum of six times per year. This policy protects the value of your membership and helps Kissing Camels remain exclusive. Thank you for adhering to this guest policy.
Push Cart Reminders
Having a push cart can be a nice addition to any golfer's equipment. However, please adhere to these certain rules and regulations as a courtesy to other players.
Please do not push your carts across the tee boxes.
Please do not bring your cart unnecessarily close to the green – the fringe is too close.
Please do not push your cart through the native grasses.
Always be aware of the next tee box to save time walking back to get your cart.
Please use common sense when on the golf course as we all share this wonderful benefit.
Fishing on the Golf Course
A reminder to all members and residents: There are only two locations designated for fishing on property. Those areas are Hole #7 on the South Course in the posted area and at the Glen Eyre Reservoir. Fishing is prohibited on North 8, West 3 and West 4 of the golf course. Safety remains our biggest concern when golfers are in play.
Frost Delays and Winter Course Update
Does frost damage turfgrass? No, the frost itself will not. However, if you golf, you might encounter a frost delay at the course on cold mornings. This is due to the fact that if you walk or drive across turfgrass that is frost covered, you will shatter the frozen cells of the leaves and thus damage the grass.
We have already experienced several days of heavy frost. We ask that you please call ahead to check frost conditions prior to your morning starting times. Starting November 1, 27 holes will be cut to 18 holes and we will officially be moved to the winter course. The winter course consists of all 9 holes of the South, North 1, 2, 3, 8, 9 and West 1, 7, 8, 9.
Call 719-636-2520 for frost and snow delay updates.        Winter Course Map >
Short Game Practice Area
Improve the Most Important Aspect of Your Game
The short game, from 100 yards in, equates for just under 70 percent of golf shots. Focusing on your short game is the best way to improve your overall score. So members with golfing privileges and resort guests that have reserved a tee time should take advantage of our short game practice area. There are 3 shag bags available for use while warming up or practicing. There are club stands stationed around the area for your convenience.
Golf course maintenance will fill in all divots; the grass in the short game practice area is Bent Grass and we want to prevent Rye Grass from mixing in. We hope that you take advantage of this wonderful area and be on the lookout for upcoming short game clinics.
Explore membership
For more than 60 years, our legendary private club has offered breathtaking views, world-class golfing, heavenly spa treatments, fine dining and so much more.
Savor world-class dining
Let a waltz of flavors dance upon your tongue. The tickle of a blackberry sorbet. The zing of a roasted pepper. Give your senses something to dream about.