Savor Life
at Garden of the Gods Resort and Club
A tickle of blackberry sorbet. A waltz of poblano and merlot. Delight your taste buds with delectable dishes that will awaken your sense of awe. From refined, elegant dinners paired with exquisite wines to casual creations, our array of dining options satisfies every mood, taste and occasion. Our menu is orchestrated around the use of fresh, local ingredients, and our culinary team puts the finishing touches on every breakfast, lunch and dinner for the best experience in Colorado Springs fine and casual dining.
Our Resort and Club dining options are available exclusively to Members and Resort guests. Reservations are recommended. For reservations please contact our property concierge at 719-329-6900.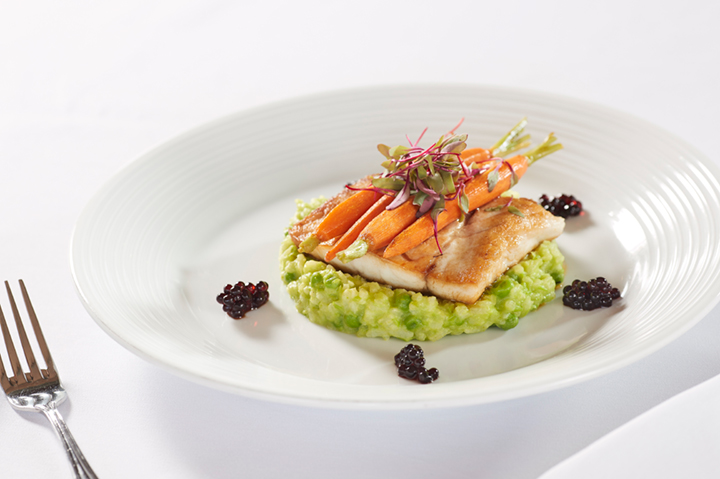 Meet the Food & Beverage Team
Dan Daughtry | Vice President of Restaurants, Bars and Events
Dan Daughtry began his career in the Hospitality Industry after graduating from Washington State University with a degree in hotel and restaurant administration, and has worked in food and beverage leadership roles for more than 25 years, including 19 years of service as a director of food and beverage at many illustrious hotels and resorts, as well as various four- and five-diamond resorts across the globe. Prior to joining Garden of the Gods Resort and Club, Daughtry most recently served as the senior director of food and beverage at the Edgewood Tahoe Resort in Lake Tahoe, Nev. During his time there, he oversaw eight food and beverage outlets for guests and members, along with more than 100,000 square feet of event space. Before that, Daughtry held the role of director of food and beverage for the Hilton Santa Fe Buffalo Thunder Resort in New Mexico, where he grew annual food and beverage revenues, as well as re-conceptualized and renovated a number of their restaurants. In his new position, Daughtry will utilize his extensive background in hospitality to lead the resort's food and beverage team and all of their operations.
Thomas Hartwell | Executive Chef
Thomas Hartwell brings a distinguished and celebrated career wholly committed to the hospitality industry and passionately devoted to the culinary arts. His decades of experience span the globe with chef assignments from the Caribbean through the United States and the prized Napa wine and food community to Micronesia. Chef Thomas has collaborated with some of industries top culinary leaders and has worked at and contributed to several of the finest hotel and restaurant companies; such as, Chef Morimoto, Ritz Carlton, Meritage Resort & Spa, Gateway Canyon Resort, ZuZu Napa and most recently Edgewood Tahoe Resort. Possessing an insatiable thirst for culinary knowledge and experiences, Chef Thomas continues to challenge and expand his culinary skills through continuing education, collaborating with culinary professionals and surrounding himself with high performing culinary talent. His career also includes American Culinary Federation (ACF) sanctioned competitions where he and his team earned gold medals.
Heather Stugart | Executive Pastry Chef
Heather Stugart comes to us from Lake Tahoe, Nevada where she was the opening Head Pastry Chef at Edgewood Tahoe Resort. Heather's distinguished and dedicated pastry experience includes two separate assignments at Thomas Keller's famed Bouchon Bakery in Napa as well as working for acclaimed chef Michael Mina. With over a decade of hospitality service, her career has taken her through San Francisco, California wine country, Northern Nevada and now beautiful Colorado. By way of her acute eye for detail and focus on culinary excellence, Heather will join our accomplished bakery team and lead them into the next chapter of the Garden of the Gods Resort & Club story. Heather shares her passion for the culinary arts with her affinity for competing in marathons and insatiable love of all things Disney.
Kim Medeiros | Grand View Dining Room Manager
Kim Medeiros grew up and lived in Rhode Island until she moved here with her husband in 1976. Before joining the Garden of the Gods Gods Resort and Club in 1990, she worked for The Broadmoor Hotel. Kim began her career as a server at The Club from 1990 to 2007, when she was promoted to daytime dining room manager. She has three children: Melanie, Jason and Seth. In Kim's spare time, she enjoys traveling with her husband to visit their children. 719-329-6901 | [email protected]
Jennifer Hurst | Kissing Camels Grille Manager
Jennifer Hurst possesses over 14 years of devoted service to the hospitality industry with an emphasis in food and beverage operations. Her professional career includes positions of increasing responsibility in both local and nationally recognized restaurants, culminating with her placement at the Garden of the Gods Resort & Club in May 2016. In her time with our resort family, Jennifer has worked in numerous positions including her most recent food and beverage leadership assignments at the Recreation Center and Kissing Camels Grille & Bar. Having resided in Colorado for 29 years, Jennifer's passion for Colorado and the outdoors, the hospitality industry and tenacious commitment to service will be instrumental in delivering on our member and guest restaurant experiences. 719-520-4987 | [email protected]
Duane Thompson | Evening Grand View & Rocks Dining Room Manager
Recently retired from Five Star restaurant the Penrose Room at the Broadmoor Hotel after a 39 year career as General Manager and Maître d'. Duane Thompson's accolades include being the recipient of The Lifetime Achievement STARS Award from the Colorado Hotel and Lodging Association, becoming the first Manager/Maître d' in Colorado to receive and maintain, consecutively, Five Diamonds and Five Stars for a Restaurant. Duane's acute attention to detail, skillful hiring and structured training practices are some of the skills Duane has honed in order to create a successful and loyal team. 719-520-4965 | [email protected]
Explore membership
For more than 60 years, our legendary private club has offered breathtaking views, world-class golfing, heavenly spa treatments, fine dining and so much more.
Sunny Side Up
Generally speaking, we see over 300 days of sunshine in Colorado Springs each and every year. So pack your bags, grab your sunglasses and come enjoy the sunshine. We'll start your day out right with a hearty breakfast.
• Luxury Accommodations
• GOG Classic Breakfast for Two